It all
began as a father and son business
Check back as we fill in more dates.
Steven A Crawford (son)
Owner of Ranch Products
Engineer for Chrysler for 33 years
BSME & Masters in Optimization in Manufacturing Processes
Over 40 years in Manufacturing Optimization Processes, creating world class quality levels!
Howard Crawford (father) (?-1983)
Owner of Ranch Products until 1983 when he died much too early
Chief engineer at a stamping plant
Registered professional engineer
Howard began manufacturing the 1/3 moon clip.
Ranch Products launched the Full Moon Clip!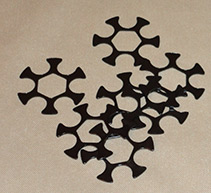 Launched the .45acp 6 shot clip.
Most Popular!
Howard and Steve acquired stamping equipment
and set up shop. The entire operation from start to finish is all in the USA.